Founder and chairman of Huawei Group —— Zhao Weiping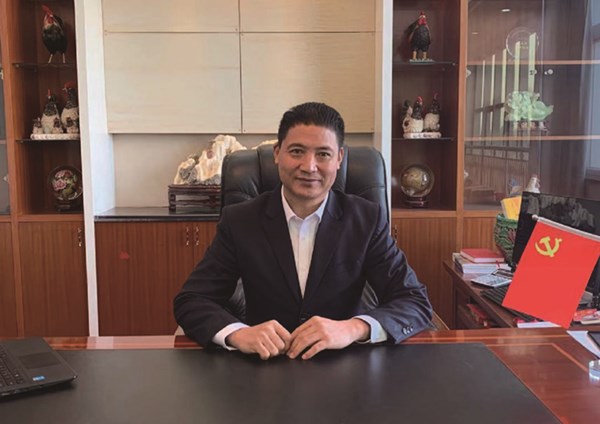 Zhao Weiping, He is the founder and chairman of Anhui Huawei Group Deputy to Xuancheng Municipal People's Congress Member of the Standing Committee of the CPPCC Xuanzhou District Representatives of the eighth and Ninth Party Congress of Anhui Province Vice chairman of the Council of China Animal Husbandry Association Etc.
Won Rural rich leaders Top ten outstanding youth spark leaders Top ten economic figures in Xuancheng Excellent scientific and technological workers Model workers of Anhui Province The provincial model individual of national unity and progress Advanced workers in China's animal husbandry industry National Agricultural, animal husbandry and fishery harvest award And honor.
He is A simple peasant entrepreneur For 36 years, we have focused on agriculture and animal husbandry, It is his duty to drive the peasants to become rich An ordinary Communist Party member Loyalty and diligence Enthusiastic about public welfare His heart The golden Party emblem is always shining The red party flag is always flying.
Message from Zhao Weiping
in Communist Party of China party It is the mainstay of the times and the great bridge of the Chinese nation. Under the great leadership of the party, the land of China is prosperous and the music of the motherland is in full swing. Huawei Group has experienced a great era of reform and opening up, Under the care and guidance of the party committees and governments at higher levels, it has gone through the arduous years of arduous struggle, bearing infinite glory and glory. The past years are unforgettable and wonderful. However, in the future, Huawei will surely face more challenges.
Let's be full of ambition, make unremitting efforts towards a higher goal, lead more farmers to increase their income and become rich. Let us adhere to the great leadership of the Communist Party of China, and continue to carry forward the noble quality of hard work and self-improvement of the Chinese people. Let us wish the party's cause more brilliant, the motherland's tomorrow more prosperous, and the future of Huawei better.